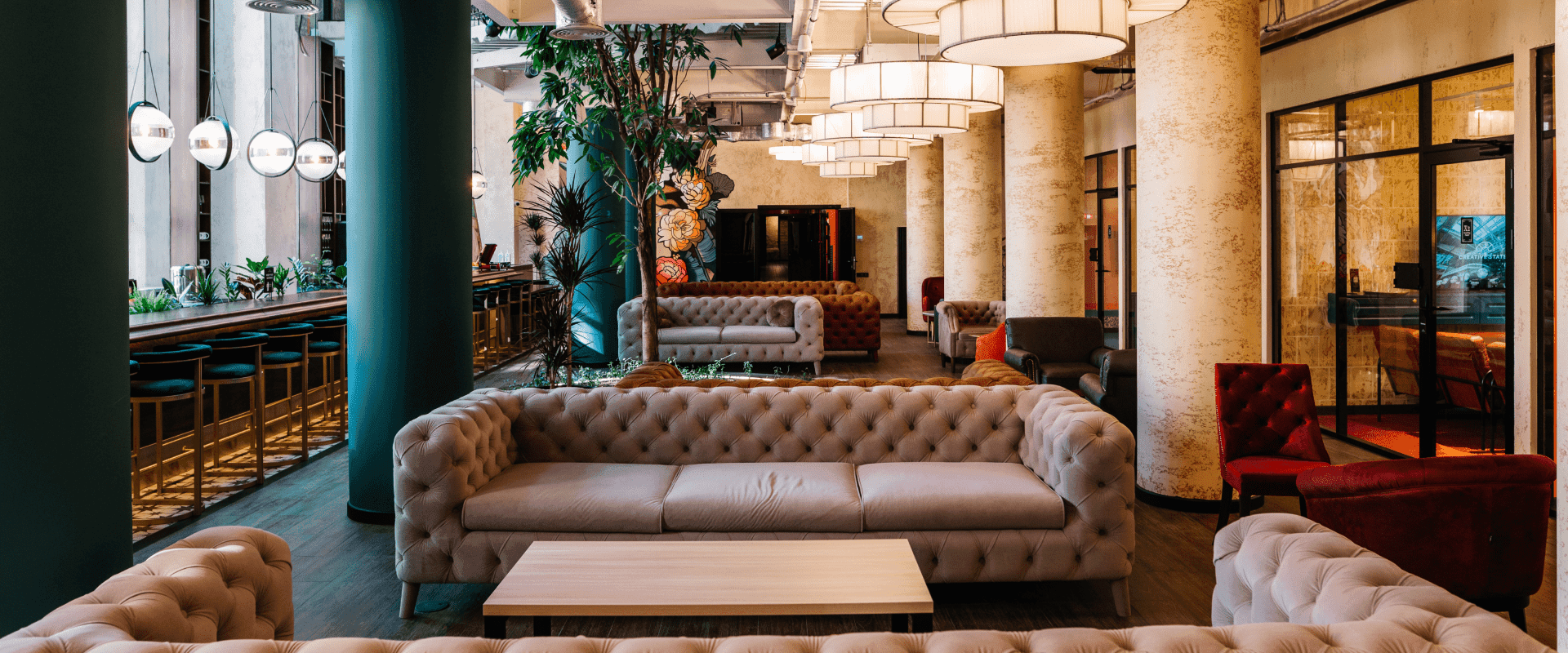 Creative States
Premium, flexible workspaces with a full range of operational services and unique community
+38 044 334 4080
COVID-19 prevention standards
At Creative States, the health and safety of our residents and employees is our top priority. We are closely monitoring the coronavirus COVID-19 pandemic and have implemented a number of precautionary measures:
1. We increased the frequency and amount of daily cleaning and disinfection of frequent touchpoints: door holders, elevator buttons, tabletops, furniture, and other common areas. This also includes:
Obligatory wet cleaning of offices during the day and in the evening. After each such cleaning, a corresponding sign will appear on the handle on the outside of the door;
Regular cleaning in meeting and Skype rooms between orders. A relevant sign will inform that the room is clean.
Daily quartz treatment of common areas and offices with special lamps that emit ultraviolet rays and can kill bacteria and viruses on any surface and in the air.
2. We have installed an aerosol cloth disinfection system for all those coming to the locations of Creative States. This is a frame with a safe and environmentally friendly sprayer based on Argumin colloidal silver that does not contain: alcohol, chlorine, formaldehyde, parabens, triclosan and other chemical compounds. Silver nanoparticles create a protective barrier and remain on the surface for more than 48 hours. This substance is safe for humans and animals. It requires no washing after treatment and does not damage the surface of tissues
3. We have installed thermal imagers that record human body temperature and purchased contactless thermometers. Each resident or guest must go through the procedure of measuring the temperature in the manager's community at the reception. If the temperature is above 37.2, the entrance to the location is prohibited and this rule is the same for everyone.
4. To maintain good hand hygiene and protection, antiseptics and disposable gloves are available freely, as well as 2 types of disinfectants (for hands and surface) have been provided in each office of Creative States. In addition, special disinfectants for phones are provided.
At Creative States, we are creating a new concept of office space, so based on international experience and WHO recommendations, we have refined standards and rules of conduct in common areas, which have become an integral part of House Rules.
In order for everyone to intuitively keep their distance from each other, we limit the number of residents who can be in common areas and meeting rooms at the same time.
We ask residents to follow the following rules:
Wearing a mask, which is mandatory at the location, without it to be and work in common areas is prohibited. We have developed branded Creative States masks and provide them to every resident.
Adhere to safety limits by means of a special marking on a floor in the general zones of a location.
Arrange the time of the guests' visit in advance and follow the safety rules.
Keep a distance of at least 1.5 m in common areas:

no more than 1 person can be at one table in the lounge and in the kitchen;
in meeting rooms the number of people is allowed - up to 5 people, and in Skype rooms no more than one person.
COVID-19 Prevention Standards will take effect on 12 May and operate at all Creative States locations.
To make it easier for everyone to adapt to the new working conditions in Creative States, we have prepared and placed monuments, reminders and cleanliness markers in public places.
If you have additional questions, be sure to contact your community manager.
We ask all residents and staff at the first symptoms of illness, fever and similar signs of a cold to call a doctor and stay home.
How is COVID-19 transmitted?
COVID-19 is transmitted by drop and contact route.
The virus does not circulate in the air but is spread mainly from person-to-person. The virus is not able to cover long distances. It is only in the droplets that a person exhales while coughing or sneezing. Distance is a guarantee of safety! Therefore, it is impossible to get infected even from an infected person if you are at a distance of more than 1.5 m.
The contact pathway of infection predominates. Most often, the virus enters the mucous membranes of the nose, eyes through the hands, or other objects after touching objects infected with secretions from the sick or infected person.
How much time can the virus live on surfaces? How can you kill a virus? The virus can store viability on surfaces from 3 hours to several days. Specific deadlines depend on several conditions. For example, surface type, temperature, and humidity. Therefore, it is important to disinfect surfaces, door handles, appliances etc.